Vision and Values
Our Mission
We are serving, working with and praying for our community.
Our mission statement is
"Impacting communities with the love of Christ".
Our Vision
There is a river whose streams make glad the city of God, the holy habitation of the Most High. Psalm 46:4
We believe that the kind of church the Lord would have us build is one like a river.
When we look at the river we see that rivers impact everything they touch, they bring change, they bring life!
They shape the land, cutting through the landscape and simultaneously moving with the contours of the landscape always refreshing, renewing, reshaping, redeeming, bringing life.
Rivers sustain life - settlements and cities are built upon them
Rivers serve communities, often visibly but equally often unwittingly - some don't even know they benefit from the river.
Rivers move forwards but are equally capable of changing direction.
Either way they are not static, if they were the river would be stagnant.
The very fact that a river flows shows it has life, the river is renewed as it moves along.
Likewise the church that remains in the river of the Spirit is constantly being renewed in His presence as it moves its course. The river that moves is a healthy river
We want to be a church like a river 'whose streams make glad the city of God.'
A Vision Series for New Day Church
During Autumn 2022, Anthony our Senior Pastor led us through our new Vision Series.
You can listen to the sermons here.
Some of the church members met in early February at our monthly Prayer for our Church to craft a prayer for the vision of the church for this season. This is the prayer: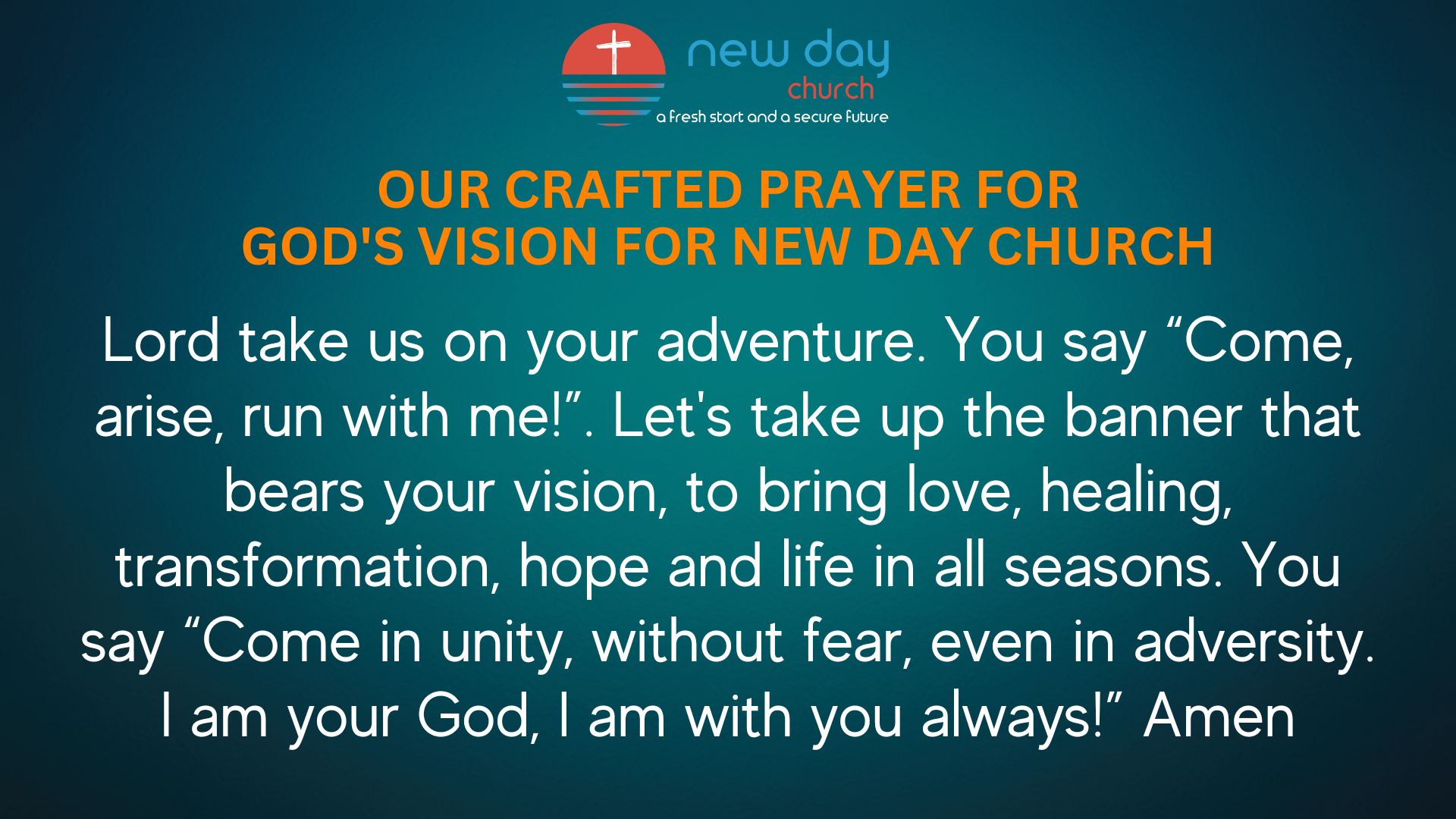 To watch a short video to explain how we arrived at the prayer, click here.
We are continuing to pray in this way until further notice and we're excited to see what God does amongst us!
We will review it over time and adapt it as our church circumstances change.
Our Values
We are DEVOTING OURSELVES
We are VALUING ALL
We are BELONGING IN COMMUNITY
We are SERVING OTHERS
We are GROWING TOGETHER
To find out more about what it means to be a Member of New Day Church click here.