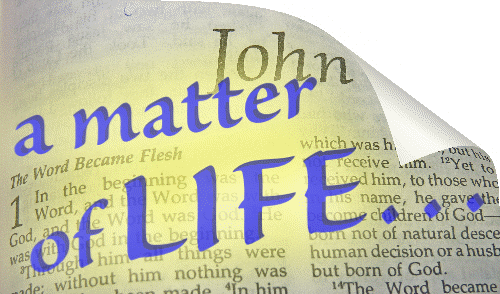 During 2014 we began to look at stories from the Gospel of John. This good news about Jesus, as told by John, is quite different in style and content from the other three Gospels. It includes phrases that have become part of our language and heritage: "You must be born again..." "I am the Way, the Truth and the Life..." "I am the Light of the World..." and "The Word became flesh and dwelt among us..."
John wrote his account of Jesus' life so that, as he put it in John 20.31, "you may believe that Jesus is the Christ, the Son of God, and that by believing you may have life in his name".
Who is Jesus? Why did He come? John answers these questions in a way that is as relevant today as it was in the 1st century. For those of us who are already familiar with these stories, they are well worth a fresh study as we seek to interpret them intelligently into our 21st century world.
We looked at some of the key stories and the I AM sayings of Jesus between February and Easter 2014, culminating in a full reading of the Gospel on Easter Saturday. It's a matter of life...and death. In the summer we'll be looking at some of the other stories from John that we missed out in the first pass.
Below are the talks in the series to date with links to the notes.
All talks are available on CD from CCF. Future talks will be available for download, one sample of this series is available below.
9th February Baptism in the Spirit - John 1:19-34 (George Thomas)
Notes
16th February
It's all about Jesus - John 1:1-18; 35-42 (Graham Hooke)
Notes
23rd February
Born Again - John 3 (Paul Jackson)
Notes
2nd March
All you need is love - John 4 (Derrick Bannister)
Notes
9th March
I am the Bread of Life - John 6 (Graham Hooke)
Notes
16th March I am the Light of the World - John 8 (LJ Warren)
23rd March I am the Good Shepherd - John 10 (Paul Jackson)
Notes
30th March I am the True Vine - John 15 (Graham Hooke)
Notes
6th April I AM the Way, the Truth and the Life - John 14 (Graham Hooke)
Notes
13th April The King! - John 12:12-19 (Paul & Miriam Grave)
Notes
20th April I AM the Resurrection and the Life - John 11/20 (Graham Hooke)
---
---