Food Bank At New Day Church
Food Bank Continues!
Food Bank is as important as ever particularly at this crisis time with coronavirus. We will continue to try to maintain the service as long as we have the resources, so please keep your donations of food or finances coming.
Our volunteers will be at the church building Monday to Wednesday between 9am and 1pm to accept donations. If you would like to donate and cannot get to the church at this time, please contact us on 01772 461454 or 07928 335679.
We are also on Facebook. Click here to visit our page.
Some of our designated donation points are back open and can now accept non-perishable food & toiletry donations!
Muscle alley opposite the church building on Ward Street. Open weekdays 10am-9pm and weekends 10am-2pm.
AK Active on Watkin Lane. See website booking page for opening times: https://akactive.com/pages/booking
Beer Box on Station Road, Bamber Bridge. Open daily - afternoons and evenings. See Facebook page for updated opening times.
New Day Homes and Hope, charity shop is located on Hough Lane, Leyland. Open every day except Thursdays & Sundays.
Co-op Funeralcare on Station Road Bamber Bridge. Open Monday to Friday 9am - 5pm
Thank you so much to each of these businesses for continuing to support us, we are very grateful!
Thank you all!

A great big thank you goes to
Joshua's joy
! They have now reached their next fundraising milestone of £3,500 (£3,800 now) since March! Joshua (pictured here) has done this with the help of his family & friends on Joshuas joy Facebook charity page. On top of all that Joshua and his family have made several generous food donations over the last few months. We are so grateful for your ongoing support, you are all amazing superstars!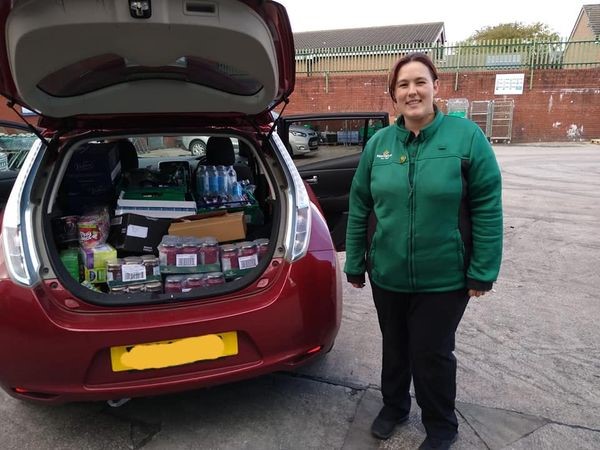 Thank you so much to
Luv Preston
for sharing your donations with us on a regular basis including bread, milk, cereal & produce.
Thank you to the supermarkets that have supported us regularly over the last few months with produce & bakery items. Over this time we have had many donations from Tesco Extra Leyland, Waitrose Capitol Centre, Co-op Lostock Hall, Asda Towngate Leyland, Asda Clayton Green, Booths Penwortham, Morrisons Bamber Bridge and Morrisons Leyland. Your continuing support is really appreciated.
We are so grateful to our local community who continue to pop to the church building and our other designated drop off points (see above) to leave their donations. Thank you so much for your ongoing support. We especially appreciate the beautiful cakes that are home-baked by the lovely Rebecca every week - a real treat!!

Co-op Funeralcare in Bamber Bridge is one of our designated collection points for our food bank. Many thanks to Martina and Jane for starting to collect donations for us - you've achieved so much already! Co-op Funeralcare is open Monday to Friday 9am - 5pm to accept your donations.
At the Food Bank our volunteers do their best to provide for all the different needs of our clients. We have various types of bags for families, large families and single people plus those in temporary accommodation. We also try to cater for those having special dietary requirements including diabetic, vegetarian, vegan, food intolerances and halal. Well done to all the team who manage this so well!
We are currently helping over 70 individuals and families per week, so your donations whether in items or financial are very much appreciated and needed. We are registered with 'Just Giving'; if you would like to donate in this way, please press the 'Donate with Just Giving' button at the top of this page. Thank you to everyone who has donated so far especially those from the Gregson Lane Folk Club who support us regularly financially.
Grant Success
We are very grateful to Joanne at Places for People for securing a grant of £6,000 for our food bank from The Places Foundation Impact Fund! In addition we have also received a grant of £500 from the Progress Housing group. This will make a huge difference over the coming months, allowing us to continue meeting the increased demand for food bank as a result of the pandemic.
Emergency Appeal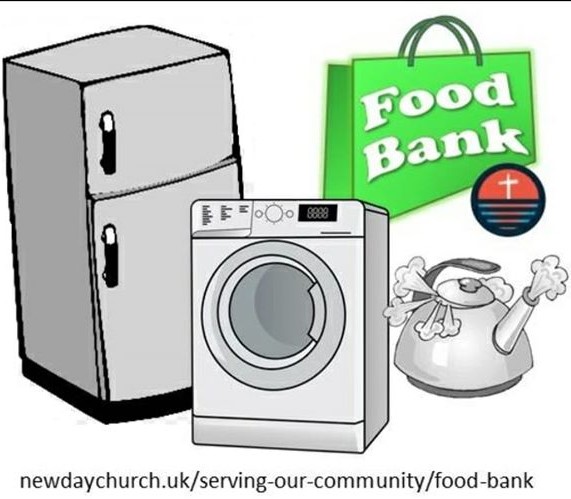 Recently, we have become aware of the desperate needs of some clients when we go out on food deliveries. In response we have set up a campaign on Just Giving for basic practical items and white goods. Please read the information on the link below and donate if you can. Thank you to everyone who has donated so far. We are 47% towards our target which is a fantastic start!
https://www.justgiving.com/campaign/emergency-appeal-ndc-foodbank
Our Service
The purpose of our Food Bank is to provide provisions for people who are struggling to provide for themselves due to financial limitations as a result of various circumstances. Our service is designed to be a hand up, supporting individuals and families in need through engagement and support as they stabilise their financial situation.
Two key principles in the operation of Food Bank are:
A Hand Up, Not A Hand Out – This is not just about free food – Our model is to: Engage / Assess / Support / Transform.
Home Delivery Model – Teams of fully trained volunteers deliver direct to the homes of the people needing our help.
To enable us to support our local community, we regularly need donations of non-perishable food items, toiletries, household cleaning items, pet food and other pet essentials. If you're interested in finding out how you can support our Food Bank including donating any items, please contact the team by phone or email or altenatively bring items to the collection point at the church in Ward street Monday to Thursdays, 9am - 1pm.

How to Access Food Bank Support
Our Food Bank covers the following areas: Lostock Hall, Penwortham, Bamber Bridge, Clayton Brook and Leyland.
Clients are referred to us by a range of agencies such as health and social care professionals, support workers, schools, Christians Against Poverty (CAP), housing associations and Citizens Advice.
For agencies to make a referral, please complete the Food Bank Referral Form (see below) and email This email address is being protected from spambots. You need JavaScript enabled to view it.. If we receive referrals for support by Tuesday, we will try to add the individual or family on the Thursday's delivery list.
If you are a referer or would like to donate, please contact us on 01772 461454 or 07928 335679. You could also visit our Facebook page here.